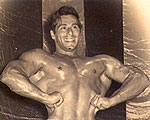 Tom Manfre was a skinny little 105 pounder who took the Atlas course and won one of the Atlas Trophies. He then went on to bodybuilding and won a Mr. World title in 1953. He and Charles Atlas became close friends.
Rick Wayne
1964 Mr Europe – FICH | World – Universe – FICH
1965 Universe – IFBB
1966 Universe – Pro – NABBA
1967 Universe – IFBB | Mr World – IFBB
1969 Universe – IFBB
1970 Pro Mr America | Mr World – IFBB
1974 Pro Mr World
I remember reading about Rick Wayne in a Wieder magazine back in the sixties. He once took the Atlas course, and after awhile his friends started call him "The New Atlas". He eventually got tired of doing just pushups and moved on into weight lifting.